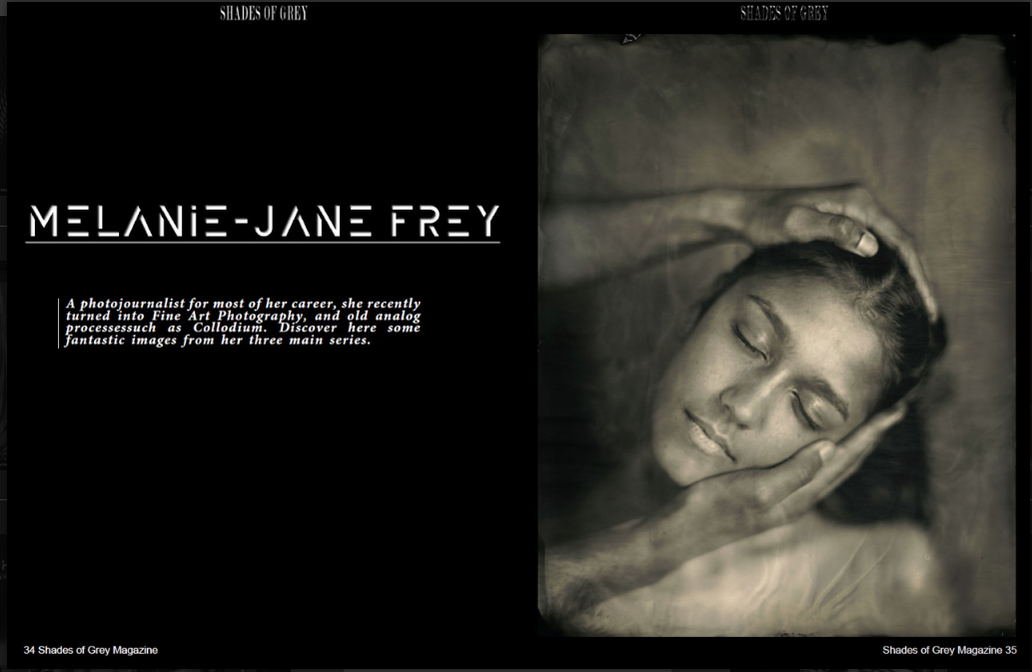 I am very happy to be part of the latest issue of SHADES OF GREY Magazine #25 - July 2020.
Eleven pages of interview and photographs available both in English OR in French :)
You can order your copy here : https://shadesofgreymagazine.com
I confess this interview really picked my brain deeply to be able to explain
what my work is about and my creative process using an experimental approach
with primitive and alternative photographic processes .
How and when did you start photography?
What are your main influences, and why?
How was your transition from photojournalism to a much more artistic
work?
Does photography still make image?
What is your best photographic experience?
Can you tell us about your intention/vision when you go out to take
pictures?
How would you define your style?
How do you prepare your photo sessions?
Do you have a specific idea/plan, or do you just take what comes to mind?
How did you design your "See War, See Peace" project?
What equipment do you use?
Have you gone digital, and if not, why?
Do you have a post-processing system, and what type of software do you use?
Social media is probably the most crucial tool to promote your work. Which one is best for you, and do you have a specific strategy for using it?
Do you have an upcoming project that you would like to mention?
Finally, do you have any good advice for budding photographers?
Thank you very much Jean Michel Missri
Editor Shades of Grey & Shades of Color magazines
Congratulations to the photographers of this #25 issue :
• Eli Matityahu
Melanie-Jane Frey
Gerry Yaum
Nuno Andrade
Philippe Ciaparra
Sarah Hadley
Luc Dartois
Florin Firimita